U.S. airlines are bracing for a travel surge this summer, hoping for a smoother season after last summer was marred by delays and cancellations, pilot and crew shortages, and rising fuel prices.
TSA checkpoint data are creeping up, and in recent days have surpassed the same dates last year and in 2021.
Delta Air Lines Inc.
DAL,
+0.39%
said recently it expects to fly nearly 2.8 million people over the Memorial Day holiday period, which would be a 17% increase from 2022.
"With an average of 560,000 passengers a day, the period is expected to exceed the prepandemic holiday travel volume logged in 2019," the airline said.
American Airlines Group Inc.
AAL,
-0.21%
has said it expects about 2.9 million customers in nearly 27,000 flights over Memorial Day weekend.
It predicted that July 28 will be its busiest day of the summer, with 6,000 departures. All told, American said it would fly 52 million people between Friday and Aug. 14.
"Every indication is that it is going to be a really strong summer," Savanthi Syth, an analyst with Raymond James, said in an interview with MarketWatch.
Airlines are still somewhat constrained in capacity, but one of the biggest problems of last year, pilot shortages, are "a lot more under control," Syth said.
Current capacity constraints are coming from jet makers such as Boeing Co.
BA,
+1.37%
having a harder time delivering new aircraft on time, and maintenance issues have also been a problem.
Airline capacity levels vary by region, with some markets not yet back at pre-COVID levels. U.S. domestic capacity has matched 2019 in January, and Syth estimated that currently capacity is likely in the low-single digits above 2019.
"There's a shortage of seats that is not going to go away this summer," keeping air ticket prices higher, although unlikely to be as high as last year, said Peter McNally, an analyst with Third Bridge, in an interview.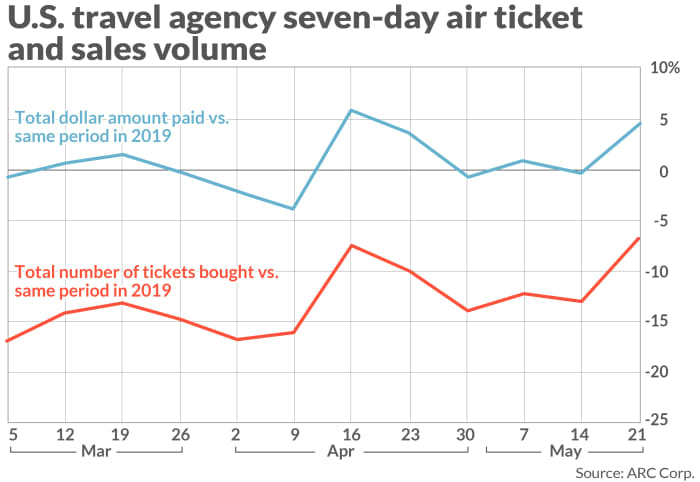 Airlines threw a lot of money at its labor problems, and hired a lot of new pilots and other employees to make up for the pandemic's early retirements and overall hiring difficulties that had been brewing for a while but that the health emergency exacerbated.
The U.S. is past "revenge travel" now, McNally said. The term came to define a return to travel after the first several months of frenzied flying and vacation-taking for some people post shutdowns and travel restrictions.
What you have now, however, is that "people found out that they really missed travel," McNally said.
Perhaps those who can afford air travel are also more likely to have more flexible job arrangements, McNally said. Some may be blending work and travel sometimes, or embarking on longer holidays where they'd be partially working from their destinations.
Raymond James's Syth said that one of the questions for this year is whether airlines will see the some type of stronger September and October sales they saw last year.
U.S. air travel follows a familiar path that, in the summer, climbs up quickly in the second half of June through early August, and dies down around Labor Day weekend, save for some regional variance based on back-to-school dates.
"Last year it was unusual, travel post-Labor Day and into October stayed really strong, relatively speaking," as perhaps as those with more travel flexibility elected to travel later in the summer or in early fall to sidestep high ticket prices, Syth said.
"Maybe we'll see that again," she said, although a similar elongation of the holiday period into January and February did not materialize.
Labor costs are some of the bigger cost pressures airlines are facing, Syth said.
Southwest
LUV,
+1.40%
and Alaska
ALK,
-0.04%
signed new contracts with employees last year, with Delta signing a new pilot contract in March and American tentatively reaching an agreement with the union representing its pilots earlier this month. United Airlines Holdings Inc.
UAL,
-0.46%
is in the middle of contract negotiations.
Another chokepoint in terms of capacity and flights offered comes from shortages of air-traffic controllers, mostly affecting the busy northeast corridor.
U.S. airlines were allowed to make schedule adjustments as a result of a waiver related to closely guarded "slots," or authorizations to use airports in the New York City and Washington, D.C., areas, in April.
Summer weather is another potential roadblock, Raymond James's Syth said. While cancellations due to winter storms and hurricanes may grab headlines, they often give airlines some time to plan for the worst. Sudden and unforeseen summer storms are the worst from an operational standpoint, Syth said.