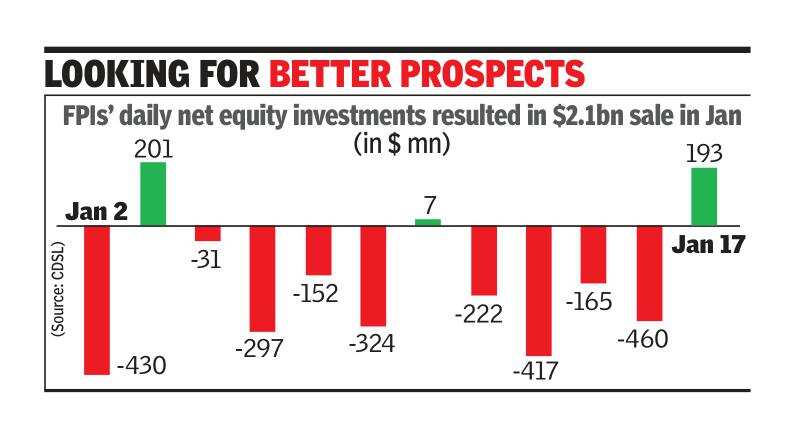 TNN
Mumbai: Foreign portfolio investors (FPIs) have started the new year with a bearish view of India. In less than three weeks, on a net basis, these fund managers have taken out nearly $2.1 billion (over Rs 17,000 crore) from the domestic stock market, data from CDSL showed. In contrast, despite muted FPI activity in December, net inflow into Indian stocks was at about Rs 47,000 crore.
Analysts at foreign brokerages and local broking house officials who work with FPIs said that there were at least three strong reasons for the current rush of outflow. Factors like attractiveness of the Chinese markets after its relative underperformance over the last 2-3 years, expected opportunities to make money in the bond market in the next couple of years and India's rich valuations have combined to prompt FPIs to pull money from the domestic market. The only silver lining, however, is that India's relatively good performance in 2022 had lifted its weight among emerging market (EM) indices, which in turn could now prevent a rush of FPI exits from the country.
According to Santosh Pandey, president & head of Nuvama professional clients group, after the Covid outbreak, Chinese stocks have seen a decent correction. Compared to India, which currently has a 12-month forward price-to-earnings (PE) multiple of almost 20x, the Chinese market is available at a PE of 10x-12x. "This makes the Indian market less attractive on a like-to-like comparison," he said. India's average long-term valuation was around 16x.
Chris Wood, the celebrated global market strategist now with Jefferies, also recently wrote in his Greed & Fear report that presumably foreign fund managers are selling in India to invest in China, and India's rich valuations were a challenge to attract fresh money.
Pandey also feels that one could make good money in the bond market over the next few quarters, compared to the equity market. "Bond prices have turned very attractive after the massive correction driven by US Fed's rate tightening. Hence, global equity — including Indian equity — looks less attractive as an asset class," he said. Given the current levels of high yields and low prices in bonds, there is a chance to lock in higher yields and enjoy price gains over the next few quarters.
A recent report by foreign broking major Credit Suisse noted that FPI flows into India "could remain constrained amid a challenging global macro environment". However, the report also pointed out another balancing aspect that may limit the outflow of FPI money from India. "Interestingly, while India's weight in the MSCI EM index has more than doubled to over 14%, FPI ownership of Indian equities is at a nine-year low. Hence, we do not anticipate significant FPI outflows in 2023," it said. This is because foreign funds that have MSCI EM index as their benchmark will have to maintain their India exposure according to the index's weight. Hence, these funds will not be able to sell Indian stocks to bet elsewhere.