Large-capitalization stocks with high international revenue in the S&P 500 index have been outperforming domestically oriented companies as a better-than-feared economic backdrop in Europe and China's recovery from the coronavirus pandemic has fueled optimism about non-U.S. equities, said a strategist at RBC Capital Markets. 
Large-cap companies with high international revenue exposure have only been seeing "modest" downward earnings per share (EPS) revisions, which represents an improvement from 2022, when these stocks experienced the rate of upward revisions fall sharply to around 20%, said Lori Calvasina, head of U.S. equity strategy of RBC Capital Markets, in a Monday note (see chart below).
Conversely, large-cap stocks with entirely domestic revenue exposure "have started to see the rate of upward EPS estimate revisions deteriorate," which comes after an extended period in which downward revisions were "modest and much more resilient" than those in the high international cohort.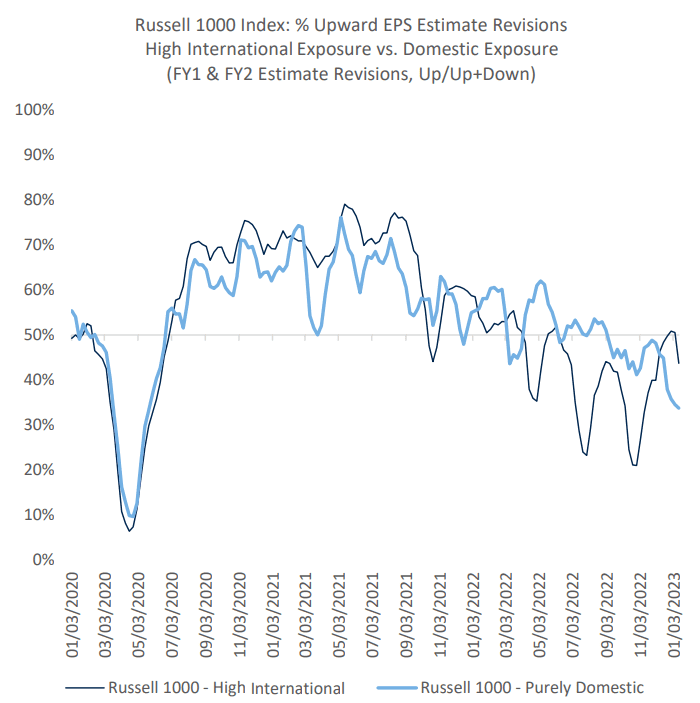 "It's fair to say that the high international bucket has been more de-risked from an earnings perspective, and that the domestic cohort is yet another former leadership area that is finally taking its lumps," wrote Calvasina. "After an extended period in which domestic names outperformed, the high international bucket has been outperforming over the past few months including early 2023 trading." 
Calvasina thinks the shift indicates a trend in which U.S. investors have gradually increased their exposure to non-U.S. assets as the economic backdrop in Europe has been better-than-feared and as China's economic reopening has ignited optimism about the country's economic growth. 
See: Small-cap stocks outperform so far in 2023 as U.S. equities book second week of gains this year
On Monday, French Finance minister Bruno Le Maire said the economic situation of the European Union is better than feared, citing more positive-than-expected economic results. European stocks rose to a near nine-month high on Monday with the pan-European STOXX 600 index
SXXP,
+0.40%
closing up at its highest level since April 21, 2022, according to Dow Jones Market Data.
China on Monday reported 3% GDP growth for 2022, the second slowest pace since the 1970s but beat markets' expectations. China's Vice-Premier Liu He on Tuesday said the country welcomed foreign investment and projected that the world's second-largest economy will "normalize" as Covid-19 restrictions ease after three years of pandemic isolation.
See: Fund managers are 'a lot less bearish' than in the fourth quarter, Bank of America's latest poll finds
U.S. stocks finished mostly lower on Tuesday after investors returned from the three-day Martin Luther King Jr. Day weekend and assessed fourth quarter earnings results from major banks. The Dow Jones Industrial Average
DJIA,
-1.14%
slumped 391.76 points, or 1.1%, to 33,910.85. The S&P 500
SPX,
-0.20%
shed 0.2%, and the Nasdaq Composite
COMP,
+0.14%
slightly gained 0.1%.