Wall Street analysts are souring on U.S. stocks. Historically, that has meant that the market is likely to climb during the coming months, with gains sometimes breaking into double-digit percentage territory.
Bank of America's sell-side indicator, a gauge of Wall Street analysts' expectations for U.S. stock-market performance, declined by 37 basis points to 53.1% in October while the S&P 500 fell by 2.2%, according to a report by Bank of America's Savita Subramanian obtained by MarketWatch on Wednesday.
The decline represents the indicator's first drop in sentiment since May, and the biggest drop since last October. The indicator is premised on the notion that Wall Street sentiment is a reliable counter-indicator, meaning stocks' tend to climb when the gauge falls, and vice versa.
"The SSI has been a reliable contrarian indicator in other words, it has been a bullish signal when Wall Street was extremely bearish, and vice versa. Although the indicator is currently in 'Neutral' territory (a less predictive range than the more extreme 'Buy' or 'Sell' thresholds), it is far more bearish than bullish, nearly 3x closer to a 'Buy' signal than a 'Sell,'" Subramanian said.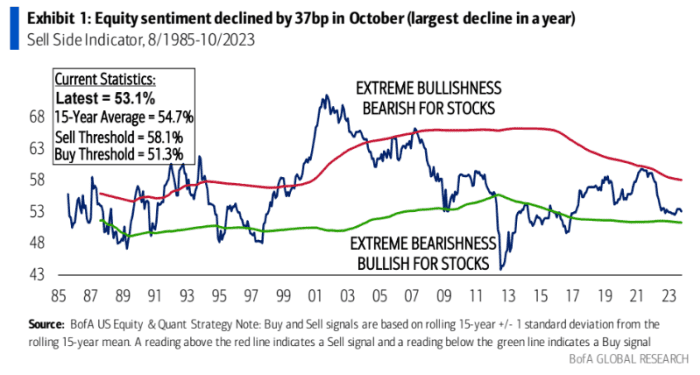 According to Subramanian, at its current level, the SSI projects a 15.5% price return over the next 12 months for the S&P 500
SPX,
which would put the index at around 4,850, what would be a new record high.
http://www.marketwatch.com/news/story.asp?guid=%7B20C06575-04D4-B545-728E-C40BDFD475E3%7D&siteid=rss&rss=1